Diving with Bahamas Underground
The Gnomes that guard the entrance to the Cascade Room of Dan's Cave. Photo by Brian Kakuk

Dive Profiles

The caves here on Abaco are the most highly decorated underwater caves in the world, meaning that they are filled with thousands of crystal formations found nowhere else. Dan's cave has more than 40,000 feet (12,195 M) of underwater passages that range in depth from 75 foot (24M), 110 foot (34M) and 150 foot (45M) in different areas of the cave. Ralph's Cave is similar but currently only has about 10,000 feet (3,050M) of passage. These are our primary caves that we dive, but there are several more that we occasionally visit with similar depths.

Side Mount, Back Mount and CCR

Although we have about 5 days' worth of back mount cave diving available, side mount divers will have access to much more cave and be able to see formations and crystals found nowhere else on earth. We can also support CCR diving with 3000 psi medical grade oxygen fills and Sofnolime 8/12 grade absorbent , but Sofnolime must be arranged in advance of your trip.



Gas, Deco and Stage Diving Equipment

The Bahamas Underground dives only Nitrox (no air diving) and we decompress using 100% oxygen. Our dives usually require some decompression (5 to 30 minutes depending on the dive…. Your choice), so divers should bring not only their own cave diving equipment, but at least one extra oxygen clean regulator for their decompression cylinder. More experienced cave divers may wish to travel further into the cave to some of the more stunning passages. In this case additional cylinders would be required, so the divers would want to bring "stage regulators" for the additional cylinders if they choose the more advanced dives. Rental regulators for oxygen decompression or stage diving are always available.

Cylinder Rentals

We carry both Aluminum 80 and Steel LP 85 cubic foot cylinders (side mount or manifold doubles) and stage cylinders are all aluminum 80 cubic foot cylinders. All cylinder valves are DIN and mirrored (opposing handwheel) style, but can be converted to Yoke style regulators if required. Decompression (oxygen) cylinders are aluminum 40 cubic foot cylinders, also with DIN style valves. We carry all styles of side mount and stage rigging for cylinders.

Decompression Diving

When cave diving here in Abaco, it is a good idea to have a dive computer (2 is better or redundant tables and depth gauge and timer) that can use multiple types of nitrox and oxygen for decompression during the dive. Rental multi-gas dive computers are available.




Divers are ready for a long dive in Dan's Cave. Photo by Brian Kakuk
Joseph Tan glides between massive crystal pillars in the Cascade Room of Dan's Cave. Photo by Brian Kakuk

Thermal Protection

The water temperature of the inland caves is a constant 75 degrees (24C) all year round. There is a distinct halocline at a depth of 50 to 55 feet (17M). The water in the caves is fresh above this depth and completly salt water below. The ocean caves vary greatly in temperature from summer to winter, with 69 F (20.9C) to 88 F (30.5C). I use a 7mm semi-dry wetsuit for the inland caves and a 3mm or 7mm suit for the ocean caves depending on the season. A dry suit can be worn, but it may be prohibitively hot on the surface in the summer months. We highly recommend bringing your own adequate thermal protection as rental suits on Abaco are few and far between and proper sizing can be an issue.

Safety

The Bahamas Underground van is fitted with a fully stocked First Aid Kit (Mountain Medical Kit) that been supplemented to meet the needs of an EMT. There is also an emergency oxygen kit on board with enough oxygen to evacuate any diver to emergency services in Marsh Harbor. The van also has a SPOT emergency GPS transmitter that sends emails and emergency signals to designated persons and emergency crews.

The Day

A usual day starts when I pick up the divers at their hotel at 8:30 AM (if staying in Marsh Harbor only) and we head to the store so everyone can purchase their lunch for the day. I provide a cooler with ice to keep the lunch cool and I provide bottled water as well. Then we head to the dive shop, analyze our cylinders for oxygen content, then load up all of our equipment in the van and head out for the day. The drive to the dive sites is about 35 minutes. We do the first dive around 11 am and If diving a full day, then take a 1 and a half hour to two hour surface interval and have lunch at one of the dive sites. We provide a pop up canopy to escape the sun or rain and camp chairs for a relaxing lunch break in the pinewoods of Abaco. After lunch, we do a second, shallower dive in the afternoon around 2:30PM or 3PM. After the dive, we drop off equipment at the shop, and then we take everyone back to their hotel. We are usually done by 4 or 5 PM.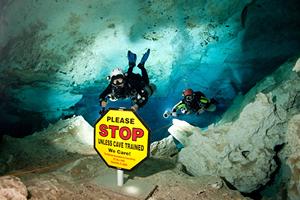 Divers swim past the stop sign in Dan's Cave. Photo by Brian Kakuk
Bookings and Deposits
As for bookings, The Bahamas Underground works on a first come first serve basis. Once I receive a 50% deposit on the guided diving or course fees, then your days are locked in to the calendar and no other clients will be booked during their stay.
Deposits can be sent via Paypal to Bahamacave@aol.com or they can send a check drawn from a US bank in US funds to:
Brian Kakuk
512 West Paris Street
Tampa, Florida 33604
Deposits will guarantee that the divers have the caves and the guide all to themselves. Once again, this is an exclusive cave diving experience with only two divers (and guide) each day.